My Blog
Posts for tag: dental implants
By Randal Bourjaily, D.D.S. P.C.
March 24, 2021
It's a common practice among people slowly losing their teeth to have their remaining teeth removed. They find dentures to be less costly than replacing one tooth at a time or caring for those that remain. On the other hand, it's usually healthier for the mouth to preserve remaining teeth as long as possible, replacing them only as necessary.
This latter strategy has up to now been difficult and expensive to achieve. But dental implants are changing that—using these imbedded titanium metal devices with a variety of restorations, we're able to better plan and implement staged tooth replacement.
Most people associate implants with single tooth replacements of a life-like crown cemented or screwed into an abutment attached to the implant post. This can play an early role in a staged replacement plan, but at some point, multiple single-tooth implants can become quite expensive.
Implants, however, have a much broader range of use. A few strategically placed implants can support a variety of restorations, including bridges and removable or fixed dentures. Four to eight implants, for example, can secure a fixed denture replacing all teeth on a jaw, far fewer than the number needed to replace the teeth individually.
Implants may also improve the function of traditional restorations. For instance, dentures can't stop the bone loss that often results from tooth loss—in fact, they will accelerate it as they rub and irritate the bony ridges of the jaw. By contrast, implants stimulate bone growth, slowing or even stopping the process of bone loss.
In a traditional bridge, the outer crowns of the restoration are bonded to the teeth on either side of the missing tooth gap (the middle crowns fill the gap). These support teeth must be permanently altered to accommodate the crowns. But an implant-supported bridge doesn't depend on other teeth for support, thus eliminating the need to permanently alter any teeth.
More importantly, previously placed implants often become part of the next stages of tooth replacement, like building on an addition onto an existing house. All in all, including implants in your ongoing dental restoration can help you enjoy the benefits of preserving your natural teeth for much longer.
If you would like more information on dental restoration options, please contact us or schedule an appointment for a consultation. You can also learn more about this topic by reading the Dear Doctor magazine article "Replacing All Teeth but Not All at Once."
By Randal Bourjaily, D.D.S. P.C.
February 17, 2019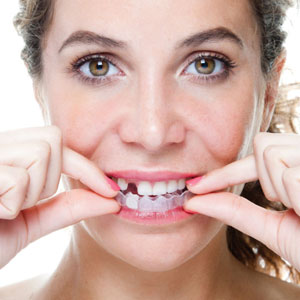 You have a lot of options for replacing missing teeth, from state-of-the-art dental implants to affordable, but effective partial dentures. But if the teeth in question have been missing for a while, you may first have to undergo orthodontic treatment. Here's why.
While they may feel rigid and firm in the jawbone, teeth are actually held in place by periodontal (gum) ligaments. These elastic tissues lie between the teeth and the bone and attach to both with tiny filaments. This mechanism allows the teeth to incrementally move over time in response to biting pressures or other environmental factors.
When a tooth goes missing the teeth on either side of the space naturally move or "drift" into it to help close the gap. This natural occurrence can reduce the space for a restoration if it has gone on for some time. To make room for a new prosthetic (false) tooth, we may have to move the drifted teeth back to where they belong.
If you're thinking metal braces, that is an option—but not the only one. Clear aligners are another way to move teeth if the bite problem (malocclusion) isn't too severe. Aligners are a series of custom-made, clear, plastic trays worn over the teeth. The patient wears each tray, slightly smaller than the previous one in the series, for about two weeks before changing to the next one. The reduction in size gradually moves teeth to their intended target position.
Many adults prefer clear aligners because they're nearly invisible and don't stand out like metal braces. They're removable, so you can take them out for cleaning or for special occasions. And, we can also attach a prosthetic tooth to the tray that temporarily covers the missing tooth space.
Whichever orthodontic treatment you choose, once completed we can then proceed with restoration to permanently replace your missing teeth. While it can be a long process, the end result is a beautiful smile that could last for years to come.
If you would like more information on your dental restoration options, please contact us or schedule an appointment for a consultation. You can also learn more about this topic by reading the Dear Doctor magazine article "Straightening a Smile before Replacing Lost Teeth."