My Blog
Posts for: September, 2021
By Randal Bourjaily, D.D.S. P.C.
September 20, 2021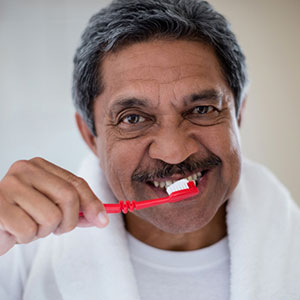 Tooth loss is often the unfortunate conclusion to a case of untreated periodontal (gum) disease—incentive enough to try either to prevent it or aggressively treat an infection should it occur. In either case, the objective is the same: to remove all plaque from dental surfaces.
Dental plaque (and its hardened form, tartar) is a thin buildup of bacteria and food particles on tooth surfaces. It's a ready food source for sustaining the bacteria that cause gum disease. Removing it can prevent an infection or "starve" one that has already begun.
Your first line of prevention is brushing and flossing your teeth daily to remove any accumulated plaque. Next in line are dental cleanings at least twice a year: This removes plaque and tartar that may have survived your daily hygiene.
Plaque removal is also necessary to stop an infection should it occur. Think of it as a more intense dental cleaning: We use many of the same tools and techniques, including scalers (or curettes) or ultrasonic devices to loosen plaque that is then flushed away. But we must often go deeper, to find and remove plaque deposits below the gums and around tooth roots.
This can be challenging, especially if the infection has already caused damage to these areas. For example, the junctures where tooth roots separate from the main body of the tooth, called furcations, are especially vulnerable to disease.
The results of infection around furcations (known as furcation involvements or furcation invasions) can weaken the tooth's stability. These involvements can begin as a slight groove and ultimately progress to an actual hole that passes from one end to the other ("through and through").
To stop or attempt to reverse this damage, we must access the roots, sometimes surgically. Once we reach the area, we must remove any plaque deposits and try to stimulate regrowth of gum tissue and attachments around the tooth, as well as new bone to fill in the damage caused by the furcation involvement.
Extensive and aggressive treatment when a furcation involvement occurs—and the earlier, the better—can help save an affected tooth. But the best strategy is preventing gum disease altogether with dedicated oral hygiene and regular dental visits.
If you would like more information on preventing and treating gum disease, please contact us or schedule an appointment for a consultation. You can also learn more about this topic by reading the Dear Doctor magazine article "What are Furcations?"
By Randal Bourjaily, D.D.S. P.C.
September 10, 2021
Hannah Bronfman, well-known DJ and founder of the health and beauty website HBFIT.com, took a tumble while biking a few years ago. After the initial pain and bruising subsided, all seemed well—until she started experiencing headaches, fatigue and unexplained weight gain. Her doctors finally located the source—a serious infection emanating from a tooth injured during the accident.
It's easy to think of the human body as a loose confederation of organs and tissues that by and large keep their problems to themselves. But we'd do better to consider the body as an organic whole—and that a seemingly isolated condition may actually disrupt other aspects of our health.
That can be the case with oral infections triggered by tooth decay or gum disease, or from trauma as in Bronfman's case. These infections, which can inflict severe damage on teeth and gums, may also contribute to health issues beyond the mouth. They can even worsen serious, life-threatening conditions like heart disease.
The bacteria that cause both tooth decay and gum disease could be the mechanism for these extended problems. It's possible for bacteria active during an oral infection to migrate to other parts of the body through the bloodstream. If that happens, they can spread infection elsewhere, as it appears happened with Bronfman.
But perhaps the more common way for a dental disease to impact general health is through chronic inflammation. Initially, this defensive response by the body is a good thing—it serves to isolate diseased or injured tissues from healthier tissues. But if it becomes chronic, inflammation can cause its own share of damage.
The inflammation associated with gum disease can lead to weakened gum tissues that lose their attachment to teeth. But clinical research over the last few years also points to another possibility—that periodontal inflammation could worsen the inflammation associated with diseases like heart disease, diabetes or arthritis.
Because of this potential harm not only to your teeth and gums but also to the rest of your body, you shouldn't take an oral injury or infection lightly. If you've had an accident involving your mouth, see your dentist as soon as possible for a complete examination. You should also make an appointment if you notice signs of infection like swollen or bleeding gums.
Prompt dental treatment can help you minimize potential damage to your teeth and gums. It could also protect the rest of your health.
If you would like more information about the effects of dental problems on the rest of the body, please contact us or schedule a consultation. To learn more, read the Dear Doctor magazine article "The Link Between Heart and Gum Diseases."