My Blog
Posts for: September, 2019
By Randal Bourjaily, D.D.S. P.C.
September 15, 2019
As the host of America's Funniest Home Videos on ABC TV, Alfonso Ribeiro has witnessed plenty of unintentional physical comedy…or, as he puts it in an interview with Dear Doctor–Dentistry & Oral Health magazine, "When people do stuff and you're like, 'Dude, you just hurt yourself for no reason!'" So when he had his own dental dilemma, Alfonso was determined not to let it turn onto an "epic fail."
The television personality was in his thirties when a painful tooth infection flared up. Instead of ignoring the problem, he took care of it by visiting his dentist, who recommended a root canal procedure. "It's not like you wake up and go, 'Yay, I'm going to have my root canal today!'" he joked. "But once it's done, you couldn't be happier because the pain is gone and you're just smiling because you're no longer in pain!"
Alfonso's experience echoes that of many other people. The root canal procedure is designed to save an infected tooth that otherwise would probably be lost. The infection may start when harmful bacteria from the mouth create a small hole (called a cavity) in the tooth's surface. If left untreated, the decay bacteria continue to eat away at the tooth's structure. Eventually, they can reach the soft pulp tissue, which extends through branching spaces deep inside the tooth called root canals.
Once infection gets a foothold there, it's time for root canal treatment! In this procedure, the area is first numbed; next, a small hole is made in the tooth to give access to the pulp, which contains nerves and blood vessels. The diseased tissue is then carefully removed with tiny instruments, and the canals are disinfected to prevent bacteria from spreading. Finally, the tooth is sealed up to prevent re-infection. Following treatment, a crown (cap) is usually required to restore the tooth's full function and appearance.
Root canal treatment sometimes gets a bad rap from people who are unfamiliar with it, or have come across misinformation on the internet. The truth is, a root canal doesn't cause pain: It relieves pain! The alternatives—having the tooth pulled or leaving the infection untreated—are often much worse.
Having a tooth extracted and replaced can be costly and time consuming…yet a missing tooth that isn't replaced can cause problems for your oral health, nutrition and self-esteem. And an untreated infection doesn't just go away on its own—it continues to smolder in your body, potentially causing serious problems. So if you need a root canal, don't delay!
If you would like additional information on root canal treatment, please contact us or schedule a consultation. You can learn more by reading the Dear Doctor magazine articles "A Step-By-Step Guide to Root Canal Treatment" and "Root Canal Treatment: What You Need to Know."
By Randal Bourjaily, D.D.S. P.C.
September 05, 2019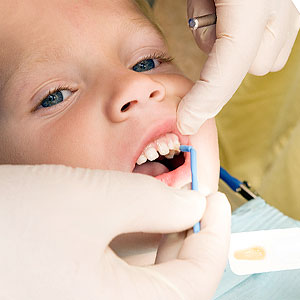 You're doing all the right things helping your child avoid tooth decay: daily brushing and flossing, regular dental visits and a low-sugar diet. But although occurrences are low, they're still getting cavities.
Some children still struggle with tooth decay even with proper dental care. If this is happening to your child, your dentist may be able to give them an extra preventive boost through topical fluoride.
Fluoride has long been recognized as a proven cavity fighter. Often added in small amounts to toothpastes and drinking water, fluoride strengthens tooth enamel against acid attacks that create cavities. With topical fluoride, a dentist applies a varnish, foam or gel containing a more concentrated amount of the chemical directly to the teeth.
The effectiveness of this method in reducing tooth decay is well-founded: A number of scientific studies involving thousands of children and adolescents found an average 28% reduction in occurrences of decay among those who received the treatment compared to those who didn't.
Still, many parents have concerns about the higher fluoride concentrations in topical applications. But even at this greater amount, fluoride doesn't appear to pose any long-term health risks. The most adverse effects—vomiting, headaches or stomach pain—usually occur if a child accidentally ingests too much of the solution during treatment.
Dentists, however, go to great lengths to prevent this by using guards to isolate the solution during an application. And in the case of a foam or gel application, parents can further lower the risk of these unpleasant side effects by not allowing their child to eat or drink for at least thirty minutes after the procedure.
The evidence seems to indicate that the benefits of regular topical fluoride applications for children at high risk outweigh the possible side effects. By adding this measure to your prevention strategy, you can further protect your child from this danger to their current and future dental health.
If you would like more information on tooth decay prevention for your child, please contact us or schedule an appointment for a consultation. You can also learn more about this topic by reading the Dear Doctor magazine article "Fluoride Gels Reduce Decay."