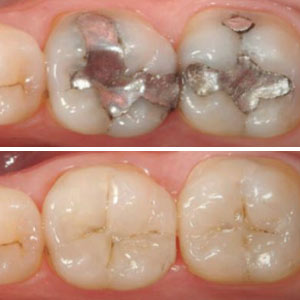 For over a hundred years dental amalgam — a combination of silver, mercury, tin and other metals — has been an effective filling material for teeth damaged by decay. But it has one major drawback — its metallic appearance stands out in stark contrast to the natural color of teeth.
As an alternative, composite resin fillings can match the color, shape and texture of natural teeth. These materials and the techniques used to bond them are proving just as effective as and more aesthetically pleasing than dental amalgam.
Fillings help protect and preserve a decayed tooth. By first removing decayed tooth structure through drilling, the resulting void is filled with durable material that strengthens the tooth and provides it protection from further decay.
The ultimate goal for restoration is to return the tooth to as near normal form and function as possible. Dental amalgam serves well in terms of function, providing the tooth strength in the face of the daily biting forces it encounters. In contrast, composite resins excel in appearance, but haven't always matched the durability of amalgam. They're material construction has improved over time, though, as well as the techniques used to bond them to teeth.
Most of these bonding techniques incorporate layering. The first step is to seal the dentin (the porous, living tissue just below the enamel); we then build up the composite material layer by layer within the tooth using special bonding adhesive and curing lights. In some cases where a large volume of tooth structure must be replaced, the restoration is first formed on the tooth and then removed for curing before being cemented into the tooth or a separate restoration is formed by a dental lab.
The end result is a tooth which both looks and functions like a fully intact tooth. Though care must be taken not to subject composite resin restorations to undue forces (no cracking open nutshells, for example), your new filling should continue to serve you and look great for a long time to come.
If you would like more information on metal-free restorations, please contact us or schedule an appointment for a consultation. You can also learn more about this topic by reading the Dear Doctor magazine article "The Natural Beauty of Tooth Colored Fillings."